City College Norwich autistic student 'binned' from course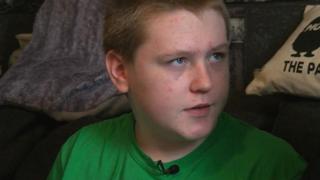 An autistic teenager who was thrown off his college course just days after starting said he feels as though he has been "thrown away in a bin".
City College Norwich said James Parker, 16, had been "enrolled in error".
His mother was told by letter that the college had made a mistake and that James, from Norwich, could not return.
The college has apologised to the family, but James said: "I just wanted to study there, I don't know how they can do that."
Special needs charity Families in Focus said the decision to remove James just three days after he began at the college was "shocking".
Lesley Bailey, from the charity, said: "He must be devastated.
"It's preventing him from having an education that he has a right to like any other young person of 16… and he has that right until he's 25 because he has a learning difficulty."
During the interview for a place on the general vocational course, his mother Emma Parker said she was repeatedly told the college was confident it could help him towards his goal to study engineering.
But the letter from City College Norwich said James was no longer able to attend as it was unable to meet his needs for one-to-one support.
It added the tutor had "enrolled James in error" and the family should have been informed by Norfolk County Council about "the outcome of a consultation prior to his interview".
Mrs Parker said that during the last term at school, James had not needed one-to-one support and could often cope with difficult social situations.
"James feels like nobody wants him," she added.
Norfolk County Council said it had made repeated attempts over several months to speak to the family about James' future.
"We remain very keen to work with James and his family to secure the best possible outcome for his education," it said in a statement.