General election 2017: PM says Tories are 'party of lower taxes'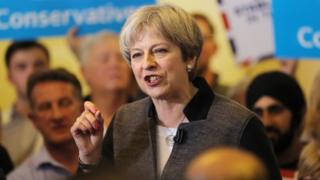 Theresa May has insisted the Conservatives are "a lower tax party", amid speculation they may raise taxes if they win the general election.
Speaking in Dudley, she said Labour's "natural instinct" was to raise tax.
But the prime minister would not say whether she would keep her party's 2015 manifesto pledge of no rises in VAT, national insurance or income tax.
Chancellor Philip Hammond said on Thursday there should be "flexibility to manage the system" of taxation.