MPs 'walk out' in protest at 'too gloomy' Brexit report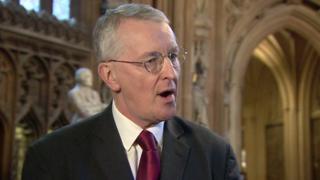 A number of Brexit-backing MPs "politely" walked out of a private meeting of the Commons Brexit Select Committee, it has been claimed.
A source said Labour chairman Hilary Benn had tried to "bounce" members into accepting a 155-page report into the government's Brexit White Paper.
BBC political editor Laura Kuenssberg said the source said it was so "gloomy" it could not be allowed to stand.
Pro-Remain MP Mr Benn's office has been contacted for a response.
According to the source, there had been no consultation on the report with the rest of the committee before Mr Benn put it forward to a vote.
Mr Benn was elected to lead the new cross-party Brexit select committee last October, beating Leave campaigner and fellow Labour MP Kate Hoey to the job.
The role of select committees, which interview witnesses and produce reports to check the work of different areas of government, has increased in profile in recent years.