Penny Mordaunt replaces Priti Patel in cabinet reshuffle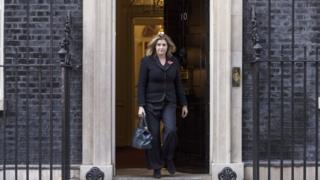 Penny Mordaunt has been promoted to the cabinet as the new International Development Secretary, following the resignation of Priti Patel.
Like Ms Patel, Ms Mordaunt was among Conservatives who backed Leave during the EU Referendum campaign.
The former work and pensions minister, 44, has now left Downing Street and arrived at her new department.
Ms Patel quit on Wednesday, admitting unauthorised meetings with Israeli officials had "lacked transparency".
It was the second cabinet resignation in a week. Last week Gavin Williamson replaced Sir Michael Fallon as defence secretary, after he quit saying his conduct had "fallen short" of the required standards after allegations of inappropriate sexual behaviour.
Ms Mordaunt, MP for Portsmouth North, is a Royal Navy reservist and was appointed as the first female minister for the Armed Forces in 2015. It had been thought she was in the running to replace Sir Michael last week.
She did not comment as she arrived at the Department for International Development on Thursday afternoon.
First elected to the Commons in 2010 she had been minister for disabled people in the Department for Work and Pensions until her promotion. She is also known for appearing on the reality TV programme Splash! in 2014.
BBC political correspondent Vicki Young said she thought Ms Mordaunt would be a popular appointment within the party.
She said it would keep the balance within the cabinet when it came to Brexit – in terms of the numbers of ministers who supported Leave or Remain during the referendum – as well as preserving the gender balance, an issue which Theresa May was concerned about.
As International Development Secretary she will be in charge of the UK's £13bn foreign aid budget.
Former Culture Secretary John Whittingdale told the BBC: "I think it's a good appointment. Penny is somebody who has a lot of experience, she has worked in an international department before – as armed forces minister, I have no doubt she will do an excellent job."
Her Labour shadow Kate Osamor congratulated Ms Mordaunt on her appointment and said she "faces an immediate challenge of restoring integrity to British international development policy after the actions of Priti Patel".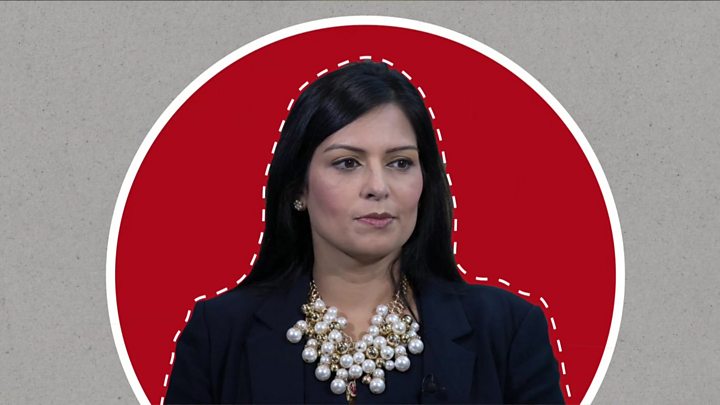 She added: "That means she must unequivocally commit to the spirit, as well as the letter, of Britain's pledge to spend 0.7 per cent of national income on international development, and face down those in her party who want to merge DFID into the Foreign and Commonwealth Office."
Ms Patel's difficulties began last week, when the BBC revealed she had arranged a number of meetings with business and political figures during a family holiday to Israel in August, without telling Downing Street or th Foreign Office.
It later emerged that after Ms Patel's visit to Israel, she asked her officials to look into whether Britain could support humanitarian operations conducted by the Israeli army in the occupied Golan Heights area.
In other appointments on Thursday, Sarah Newton has been made a minister in the Department for Work and Pensions while Victoria Atkins has become a Parliamentary Under Secretary of State at the Home Office.