Learner driver fails test after instructor's car stopped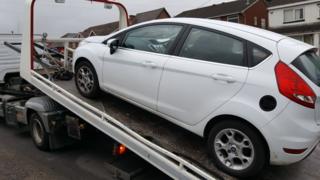 A student was on course to pass their driving test – until their instructor's car was pulled over for motoring offences.
The learner driver was stopped during their exam on Cooks Lane, near Tile Cross Road, in Birmingham on Saturday.
West Midlands Police checked the car and found it had no insurance or MOT.
The force's road policing unit said the student would have passed the test had it not been interrupted, as they had not been given any minor faults.
The driving examiner and student were taken back to the test centre where the driving instructor was questioned by police.
The 46-year-old admitted knowing the car was not insured but denied knowing the car had no MOT.
Police seized the car and took her driving instructors' badge.
She was reported to the Driver and Vehicle Standards Agency and will need to provide valid insurance and MOT documents to police at a later date.