Spalding shooting: Sons denounce killer father as terrorist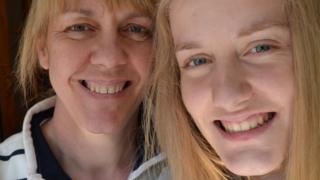 Two brothers whose father shot dead their mother and sister have described him as a "terrorist".
Lance Hart, 57, killed his wife Claire, 50, and daughter Charlotte, 19, outside a swimming pool in Spalding last July.
His sons, Luke and Ryan, said they had endured a "lifetime of struggle" with his controlling behaviour.
"He had nothing to live for other than killing us," Luke, 27, told the Victoria Derbyshire programme.
The murders happened days after Mrs Hart had left the family home following a breakdown in the couple's marriage.
Hart shot the pair with a single-barrel shotgun in the swimming pool car park before turning the weapon on himself.
'Inexplicable anger'
Luke said it was his father's final act to ensure the family could not live without him. He had left a 12-page suicide note saying "revenge is a dish served cold".
"Someone like our father was a terrorist. He was planning to kill all of us three weeks before killing them," Luke said.
"When it's your own father… the anger is inexplicable. It's so complicated and horrible and the media treated it like a one-off, but for us it was a culmination of a lifetime of struggle."
The brothers said he controlled the household by restricting money and isolating their mother from support networks.
"He was vitriolic and a bully who would be verbally abusive and threaten us.
"In a way you feel pity and sympathy and feel weakness and think he needs help. When we tried to get him help he'd refuse," Luke said.
"He held traditional masculine beliefs and a lot of people think that is normal. He thought he owned us and saw us as protected by him but we were entirely oppressed by him."
Luke said his mother had been keeping a diary of everything his father had said and done, but "as there were no bruises" they never felt it was something they could take to the police.
"Even if we did, what would they have done? They wouldn't have taken him out of the house.
"He would have broken any restraining order. The problem is you can only protect people by having universal societal beliefs."
The boys, who had worked hard to give their mother and sister a better life, had moved her out of the house so "she would be safer" while the couple's divorce went through.
At the time of the killings, some reports quoted neighbours who described Hart as a "very, very nice guy" who had struggled to deal with the breakdown of his marriage.
Ryan, 26, said: "What a lot of the papers wrote about was that he was a nice man and almost justifying what he did. Not about mum and Charlotte's lives, but about feeling sorry for him.
"When emotional abuse is talked about the onus is on the victims to escape or put up with it. There is no other form of murder where victims are blamed."
Watch the Victoria Derbyshire programme on weekdays between 09:00 and 11:00 BST on BBC Two and the BBC News Channel.
Get news from the BBC in your inbox, each weekday morning