Tributes pour in for 'hero' dog Pete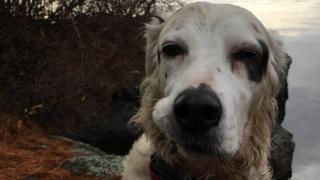 Tributes have been paid to a dog who died defending his owner and four other dogs against a bear.
Pete, a 14-year-old English Setter, was hiking with his owner Stephen Parisi at Monksville Reservoir in New Jersey when they came across the black bear along their trail on Sunday.
The bear is believed to have been sheltering and unable to smell the other dogs and Stephen as a result of recent rain and so became startled by their sight.
Pete held off the bear while Stephen got away, tying the other four dogs to a tree at a safe spot. When he was sure it was safe to do so, he retuned to shoo the bear away.
You might also like:
Stephen's wife Cathi Henn told the BBC: "The bear's only exit was a 180-degree turn and the bear was never going to turn it's back on something that it was scared of, so it came for Stephen and the dogs."
Pete was severely injured and his back was broken. Unable to carry him, Stephen wrapped Pete in a waterproof jacket and pulled him along the ground by the hood, over a mile back to Stephen's car.
Pete was taken to Oradell Animal Hospital with the help of Cathi and her friend Kate.
On Monday Cathi and Stephen made the decision to have Pete put down as a result of his injuries which would have left him unable to walk again.
Cathi said: "I want to remember him as the happy-go-lucky dog he was. I want to remember him running through the woods, always with his tail wagging."
Pete's story has had over a 1,000 likes on Instagram, has become a Twitter moment and has been well received on Facebook, too.
The couple have been surprised by the response to Pete's story.
"Thanks to everyone who have offered their condolences, I didn't expect anything like this," said Cathi. "We were just upset about our dog.
"We are just devastated. All this love for Pete is great but we'd happily trade it for just one more day with him."
A former hunting dog from Ohio, Pete was fostered by Cathi and Stephen 18 months ago when he had become too old for his former life.
"Pete loved to be the centre of attention, he would have loved all this.
"Older dogs can give so much love, Pete turned out to be our hero too."
By Kris Bramwell, UGC and Social News